The bubbles were flowing, the nominations had been announced, and the winner for 'The Responsible Business Award is …. Clear Computing'. Looks exchange between the employees before it finally sinks in that we have won and our MD Barny Hall makes his way to the stage to gracefully accept his award.
Why are we so proud to have received this award? It highlights the hard work that has gone into building the foundations of Clear Computing. Although a small company, from the offset CC has firmly believed that setting the standards of the company is paramount and for this to be recognised by the Sussex Business Awards is very gratifying.
What makes us stand out from our competitors is that we work endlessly at developing ways to improve the business. Below are four key elements on which we constantly focus:
Customers: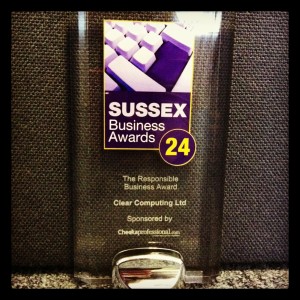 Without our customers there would be no Clear Computing. We therefore believe it is only fair that we invest time and money to ensure they receive the best service possible. From investing in our ISO9001 (an international accreditation in Quality Management) to joining the 'Buy with Confidence' scheme CC proves and delivers high standards.
With the 'Buy with Confidence' scheme any of our customers are able to provide feedback to the governing body. In four years we have never received any negative feedback, something of which we are immensely proud.
Community:
Giving back to the community is always been a must with Clear Computing, whether is it Worthing Rugby Club or showing support to local charities such as 'dizzy' and 'Love Your Hospital.'
Why stop there? We have worked closely with the elderly educating them how to use technology in 'Silver Surfer's' week and at the other end of the spectrum we work closely with the young in schools.
By working with schools we highlight the importance of safety online.  We have done this in numerous ways by providing leaflets with hints and tips to parents, workshops and even updating our website to include a whole page on how to improve security at home to help prevent cyber-bullying.
Staff:
Our members of staff are the backbone of the company. Half our full time employees are on NVQs as we want our staff to achieve the best for themselves as well as for Clear Computing.  Being involved in the 'Investors of People' award means that every colleague is involved and aware of what is happening within the company.
Like the old saying 'there is no i in team'.
Clear Computing as a company:
What makes us different from other IT companies?
We have an international accreditation in security that helps regulate companies to make them compliant with the Data Protection Act 1998.  Our prices are competitive even though we have prestige accreditations and by not being tied down to one manufacturer we offer our clients a whole range of products that reflect their need and price range.
This is not the only award Clear Computing has won:  In the past year alone we have won eight awards including 'Business of the Year', 'Education and Training' and 'Customer Care'.
We are ecstatic to have been recognised as 'The Responsible Business' in Sussex and will continue to support our customers, staff and the community in the years to come.